This year CMPS is happy to announce that we are being joined by the Pastel Painters Society of Cape Cod, the Pastel Society of New Hampshire, the Connecticut Pastel Society and the Pastel Society of Maine as co-hosts of New England PastelFest 2021.

We thank them for sharing our vision and desire to give back to the pastel enthusiast community. Their co-sponsorship has allowed NewEngland PastelFest to grow exponentially.
It is the can't miss pastel event of the year!
Passes to New England PastelFest are now available.
Click here to purchase.
WELCOME
Fellow Pastel Enthusiasts!
The results are in! Many thanks to all those who participated and congratulations to the winners of
We'd also like to acknowledge and give special thanks to our selection jurors, Lyn Diefenbach and Teresa Saia, and to our awards judge Tony Allain.

Here are the top 4 award winners with the rest immediately below those.
To view all accepted pieces click here.

1st Place
Refreshing
by Laura Mocnik, USA
11" x 15"
This painting is stunning in every way. The composition and draughtsmanship is perfectly observed. The mark making along with the flesh tones, wet clothes and reflections show us the impeccable skill of a truly confident and accomplished artist.
2nd Place
At the Edge
by Laurinda O'Connor, USA
18" X 18"
A painting bursting with fresh and powerful 'brush' marks of the pastel medium. A dramatic viewpoint from the edge of a lake as the viewer peers from under the tree canopy. This backlit landscape is flooded with all the skills of a confident artist using colour, light, form coupled with the perfectly pitched balance of values.
3rd Place
In This Together
by Robin Frisella, USA
18" x 24"
A truly amazing still life painting that creates classical realism in an elegant way. The limited palette allows the artist to excel with the handling of the components that make this painting stop the viewer in their tracks to explore all of the intricate designs hidden behind the main focal point. The reflective detail in the silver bowl, to the stems of the leaves as they intertwine throughout the main composition, certainly keeps my full attention.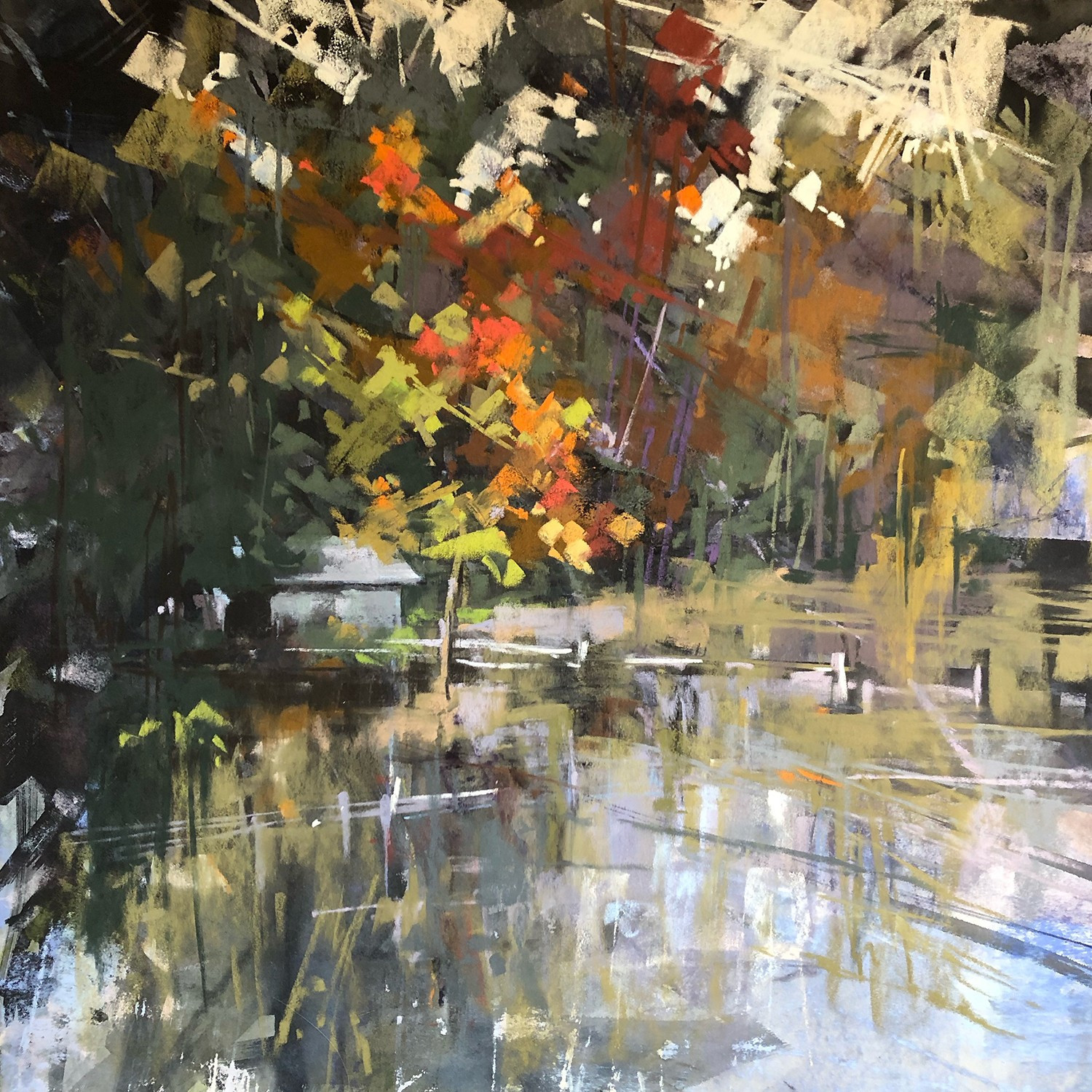 Savoir-Faire/Sennelier Award
Paige From Life
by Carol Peebles, USA
11" X 14"
This magnificent portrait of Paige is a lesson in what portraiture can be! The whole painting is executed with such passion for the human form. The flesh tones, shadows and highlights are beautifully painted. The colours shown in the hair and the way the light catches the eyelashes are truly amazing.
Here are the remaining award winners click on the image to see as full size and for award received and artist info.
Click here to see all the accepted pieces.