News & Events
2020 Spring Open Critique
CMPS will be hosting its 1st Members Open Critique session on Saturday, March 21, at the Post Road Art Center, from 9:30-12:30. This is only open to current CMPS members. If you've been to an open critique before you already know how beneficial these can be. If not, you will be amazed at how much you can get out of a session. Participants discuss the merits and/or challenges of a variety of paintings, representative of different styles and genres, using different techniques and materials. Sometimes you're learning how the artist accomplished something amazing and other times you're helping them work through a challenge. It really is a great time of reflection, learning and collaboration. There is no charge to attend but participation will be limited to 12 members. Each participate should bring 1-3 paintings. Max time for each participant's review will be 15 mins. If you'd like to register for the 3/21 Critique, send an email with CMPS Critique in the subject line to president@cmpastels.org.
CMPS Membership Perks!
5% OFF - If you need high quality prints of your artwork, or quality images of your artwork captured check out Jetart Company! jetart.biz . Using state of the art equipment, they've been capturing and reproducing fine art, lithographs, photographs and other 2 dimensional documents for private individuals, organizations, artists, galleries and museums for the past 13 years. Just let them know you are a CMPS Member.
10% OFF - Post Road Art Center in Marlborough, MA has graciously extended a 10% discount to CMPS Members. This is applicable to art supplies only but they carry a good assortment of supplies including UART paper and the full line of Richeson Hand Rolled Soft pastels. Just tell them that you are a CMPS Member at the register. They also hold monthly shows that are great to participate in, or just view. You can get further details postroadartcenter.com .
WELCOME
Fellow Pastel Enthusiasts!
CMPS Social Media

You can find CMPS information on our website http://www.cmpastels.org and on our FaceBook page https://www.facebook.com/cmpastels . The CMPS website is a work in progress. Please bear with us while we put the finishing touches on it. Also, if you have web building skills and would like to help please contact Lisa at president@cmpastels.org . The Facebook page will be a great place to post your artwork (finished or WIP - especially useful if looking for feedback), rallying the troops for impromptu plein-air outings, making new friends and staying in touch. We do have an Instagram account more to follow there at a later date.
When we aren't showcasing a current CMPS show we feature 2 CMPS members here on the home page. Meet our featured artists;
CMPS Artists of the Month
Name: Ann Goldberg
Town: Revere
Website: www.ann-goldberg.com, also I post recent work on Facebook and Instagram.
How Long have you been an artist? I have been an artist on and off for about 25 years.
How long have you been using pastels? I have been using pastels for about 15 years. I also work in oils.
What do you love about pastels? I love the colors. When I opened my first box of pastels I fell immediately in love with them. I am also more free with color experimentation with pastels. Oh and of course, no brushes to clean.
What subject matter do you paint? Landscapes and have also done some seascapes recently.
What style do you paint in? I would have to say I am impressionist
Do you teach any classes or workshops? Currently I am not teaching, but in the Spring and Summer I usually do a plein air pastel class and or workshop in Cape Ann.
Are you featured in any galleries, or shows currently? Currently I have 2 pastel paintings that have been juried in to Marblehead Art Association's regional juried show.
Any major awards in pastels? Last year I won a merit award in excellence from the North Shore Art Association in Gloucester.
Fun Facts? I was a professional dancer for many years performing and teaching both flamenco and belly dancing.
Name: Karen Audouin

Town: Hopkinton
Email: karenrba@yahoo.com
How Long have you been an artist? I've been interested in art most of my life.
How long have you been using pastels? 2-3 years
What do you love about pastels? I love the vibrancy of the color and the tactile nature of pastel painting.
What subject matter do you paint? I paint mostly landscapes and seascapes, although I am always interested in expanding my horizons.
What style do you paint in? Impressionism
Do you teach any classes or workshops? No
Are you featured in any galleries, or shows currently? No
Any major awards in pastels? N/A
Fun Facts? I love to travel. I spent several years living in Paris and traveling around Europe before I returned home and went to grad school. I currently work with international young adults.
Cranes Beach Dune
by Ann Golberg
8" x 12"
$150 (unframed)
CMPS 2020 dues were due by January 31, 2020 but there's still time!
Updates to the roster & email list won't be made until 2/28/2020
2019 Wrap-up & 2020 Updates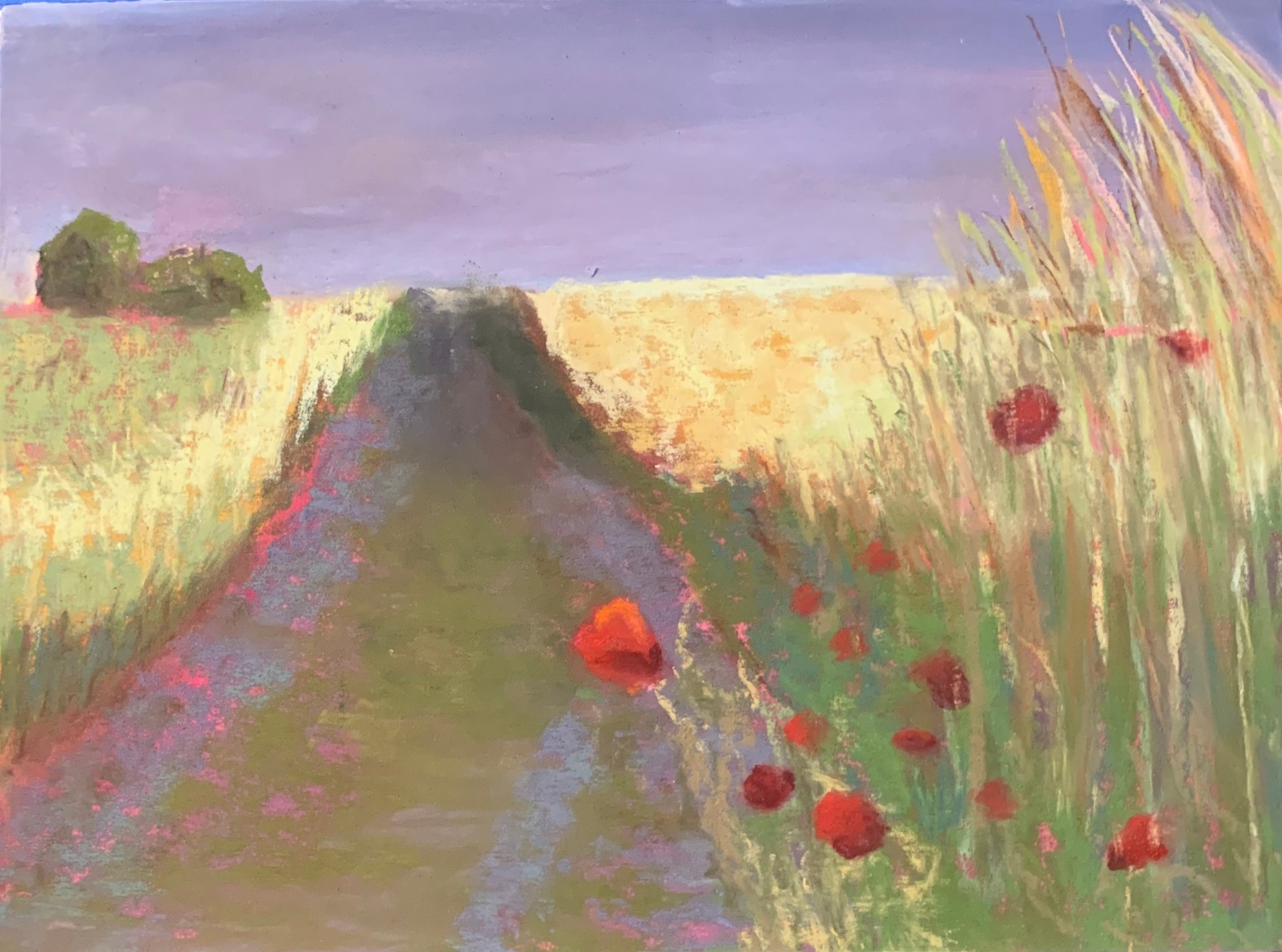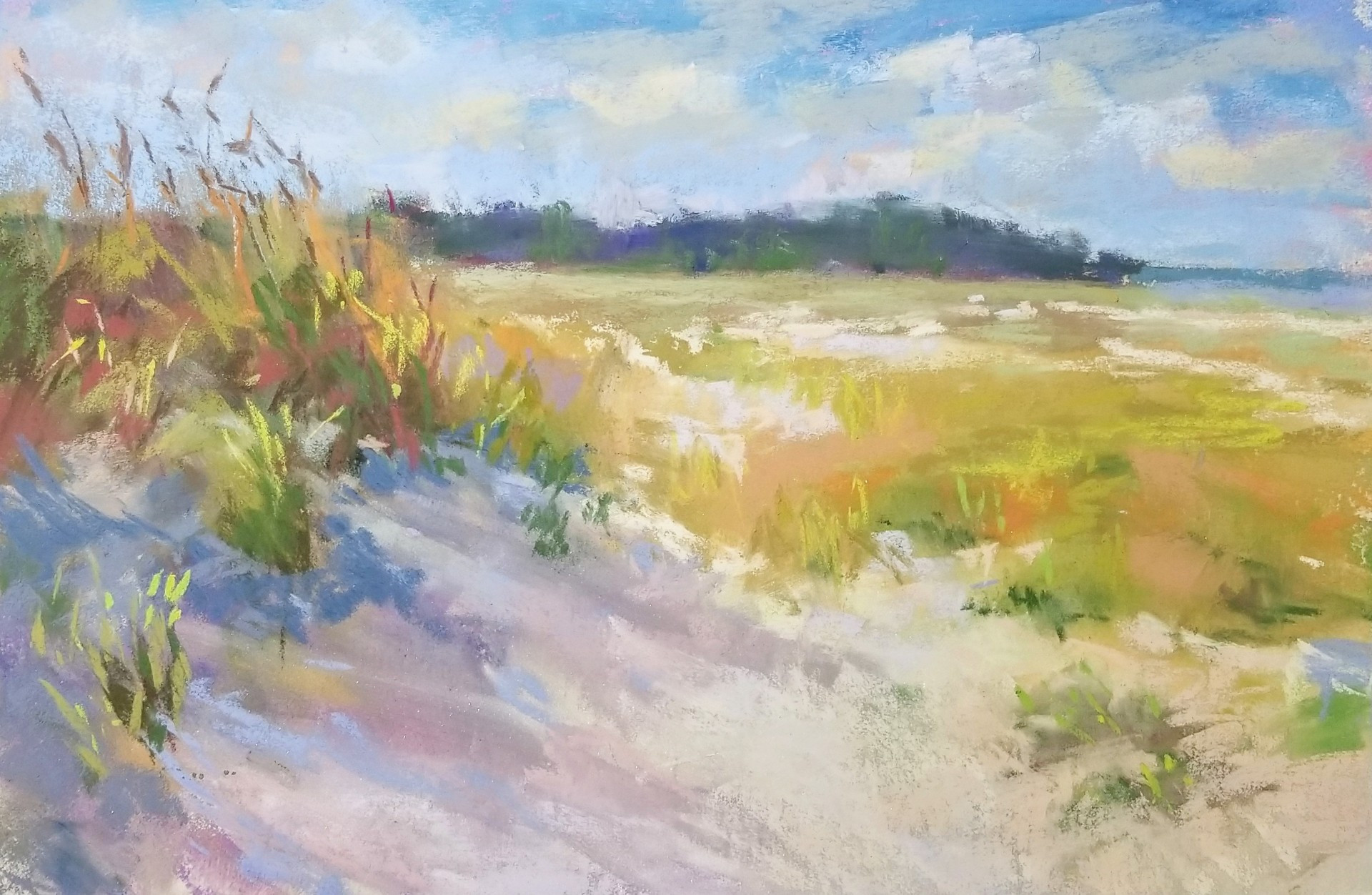 Quiet Field
by Karen Audouin
9" x 12"

$150 (unframed)
We are excited to announce our 2nd annual juried exhibit!

Marks of Distinction will be a physical show held at Worcester PopUp
June, 25 - July 15, 2020
Best in Show = $1000, 2nd = $700, 3rd = $500
CMPS anticipates over $4000 in cash & merchandise awards.
Selection Jurors: Lyn Asselta, IAPS-EP, PSA & Michael Freeman, IAPS-MC, PSA
Awards Judge: Robert Carsten, IAPS-MA, PSA-M, CPS