News & Events
CMPS Membership Perks
5% OFF - If you need high quality prints of your artwork, or quality images of your artwork captured check out Jetart Company! jetart.biz . Using state of the art equipment, they've been capturing and reproducing fine art, lithographs, photographs and other 2 dimensional documents for private individuals, organizations, artists, galleries and museums for the past 13 years. Just let them know you are a CMPS Member.
10% OFF - Post Road Art Center in Marlborough, MA has graciously extended a 10% discount to CMPS Members. This is applicable to art supplies only but they carry a good assortment of supplies including UART paper and the full line of Richeson Hand Rolled Soft pastels. Just tell them that you are a CMPS Member at the register. They also hold monthly shows that are great to participate in, or just view. You can get further details postroadartcenter.com .
WELCOME
Fellow Pastel Enthusiasts!
When we aren't showcasing a current CMPS show we feature 2 CMPS members here on the home page. Meet our featured artists;
CMPS Artists of the Month
Name: Laetitia (Lee) Borden Macos
Town: Alfred, Maine
Website: http://www.leebordenmacos.com

How long have you been an artist? 25 + years

How long have you been using pastels?

24 years exclusively pastels
What do you love about pastels?

I love the feel of pastels in my fingers. I love the strokes I can create with pastels. I love pastel colors - I love blending the shades. I love creating underpaintings for pastel creations.
What subject matter do you paint?

Birds Nests - one of my family members recently went through the in vitro process. All our phone conversations revolved around the subject of "eggs". Trying to lend support, I would go to my studio and paint eggs - then birds nests with eggs - it worked! I now have a sweet young granddaughter and I am still painting nests!
What style do you paint in? Expressionist

Do you teach any classes or workshops? No

Are you featured in any galleries or shows currently?

I am not "featured" in a show, but am currently participating in the New Hampshire Art Association (Portsmouth, NH) "On the Bright Side" March 2021 Exhibition.
Any major awards in pastels?

Over the years I have received many nice acknowledgements of my work.
Fun facts?

I have moved 35 times during my life (here in North America and Europe). Created my own company (Borden Management Inc.) which taught BOCA Construction Building Code and the City of Boston Building Code to contractors throughout New England.
Full House No. 2
by Letitia (Lee) Borden Macos
Sold
CMPS Members Giveaways are back!
1st drawing winner - Lee Borden Macos
2nd drawing winner - Jane Robbins
March still to be drawn!
*Only members whose 2021 dues are current will be entered in the drawing. Dues can be paid here.

A Midas Touch
by Karen Israel
20" x 14"
Framed $1200
Name: Karen Israel
Town: West Hartford, CT
Website: www.artbykarenisrael.com
How Long have you been an artist?
For the time I have known about, it has been 15 years. I say that because for most of my life I have been creative but didn't know I could paint or draw.
How long have you been using pastels? about 12 years
What do you love about pastels?
I can both draw and paint with them, I love all the techniques and styles I can achieve using them.
What subject matter do you paint?
I have a variety of subjects and series. For me, it is all about the design. If it is a good design, I am interested in painting it.
What style do you paint in?
Labels make me uneasy. That being said, I range from impressionism to abstract realism. My style will depend on what I am trying to say about the subject matter.
Do you teach any classes or workshops?
I teach many weekly classes, these days on Zoom and many workshops for pastel and general art societies. I teach private Zoom classes as well and private workshops.
Are you featured in any galleries, or shows currently?
I am represented by FranklinWestwood.com, Fisher Gallery Avon, Ct, The White Rabbit, West Hartford Ct. I show at Copley Society in Boston, the Salmagundi Club and the Lyme Art Association. I will be in a 3 person exhibit in April 2021 with the Voice of Art Gallery, Ct.
Any major awards in pastels?
I have won numerous awards in international and national exhibits, in pastel only shows and shows exhibiting all the mediums.
Fun Facts?
I was a Physical Therapist in my past life. I have 2 daughters and 3 baby grandkids. I love music, hiking, reading fiction and watching movies/shows(Favorites: Walking Dead/Dexter/Handmaid's Tale)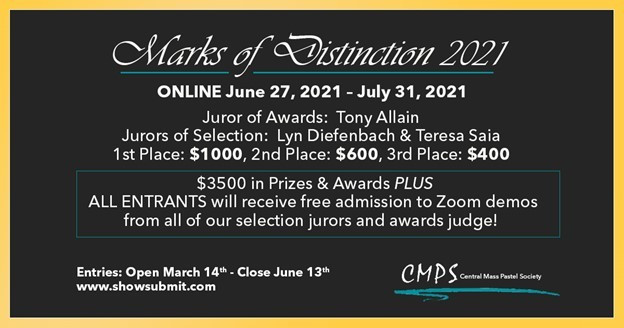 MAKE SURE TO CHECK CMPS EVENTS TAB!
LOTS OF THINGS HAPPENING IN 2021