News & Events
CMPS Membership Perks
5% OFF - If you need high quality prints of your artwork, or quality images of your artwork captured check out Jetart Company! jetart.biz . Using state of the art equipment, they've been capturing and reproducing fine art, lithographs, photographs and other 2 dimensional documents for private individuals, organizations, artists, galleries and museums for the past 13 years. Just let them know you are a CMPS Member.
10% OFF - Post Road Art Center in Marlborough, MA has graciously extended a 10% discount to CMPS Members. This is applicable to art supplies only but they carry a good assortment of supplies including UART paper and the full line of Richeson Hand Rolled Soft pastels. Just tell them that you are a CMPS Member at the register. They also hold monthly shows that are great to participate in, or just view. You can get further details postroadartcenter.com .
WELCOME
Fellow Pastel Enthusiasts!
When we aren't showcasing a current CMPS show we feature 2 CMPS members here on the home page. Meet our featured artists;
CMPS Artists of the Month
Name: Paula Fraser

Town: Millis, MA

Website: www:PaulaFraserfinearts.com Or afraser3@yahoo.com
How Long have you been an artist? It has been about 10years.
How long have you been using pastels? I started with pastel and haven't looked back being a former preschool kindergarten teacher I love getting messy an this medium provides me with those dusty fingers.

What do you love about pastels? The instant satisfaction of color and being able to capture an image quickly and applying and blending many colors to achieve just what you want.

What subject matter do you paint? I enjoy painting landscapes, still life, and portraits but my kids feel my landscapes are stronger.
What style do you paint in? I am still trying to find my style but I think I am an impressionist with realism and trying to become more loose with color and painting the light outside.
Do you teach any classes or workshops? Yes , I did teach a workshop at our library and wanted to continue but Covid has temporality limited Getting together safely, i love to share what I have learned to others so they get the thrill of creating.

Are you featured in any galleries, or shows currently? I am presently in a show at the Zullo gallery in Medfield Ma. an online and in house show Until November. I am also the person in charge of the NH Pastel Society members show.
Any major awards in pastels? A few small ones so far.

Fun Facts? I never painted before until I stopped teaching I always drew but wanted to try art never thinking I had any talent until I took classes from Jeanne Rosen Smith and went too France on a painting trip with her and other fantastic artist. When There I found out That I had some talent. I have enjoyed traveling and have been to a lot of countries: road a bike down a volcano, road a camel in the dessert, jumped off the Auckland tower, climbed a 60,000 step Mt. In China, road a elephant to see Tigers in the wild, it always gives me new subjects to paint. Being a life long learner i would encourage others too try pastels. You're never to old to learn something new, plus exchange thoughts and ideas with other interesting people.
Sands of Time
by Paula Fraser
16" x 12"
$600
CMPS ANNUAL MEMBERS SHOW IS NOW OPEN FOR ENTRIES!
1ST $300, 2ND $200 & 3RD $100*
3 Honorable Mentions* = 2021 CMPS Dues
enter at ShowSubmit.com
*3rd and one of the Honorable Mentions will be reserved exclusively for emerging artists. Emerging to be defined as anyone who has never been juried into a national show. This does not mean that an emerging artist cannot be awarded one of the other awards. The CMPS Board wants CMPS to be inclusive of all our members, regardless of where they are on their art journey.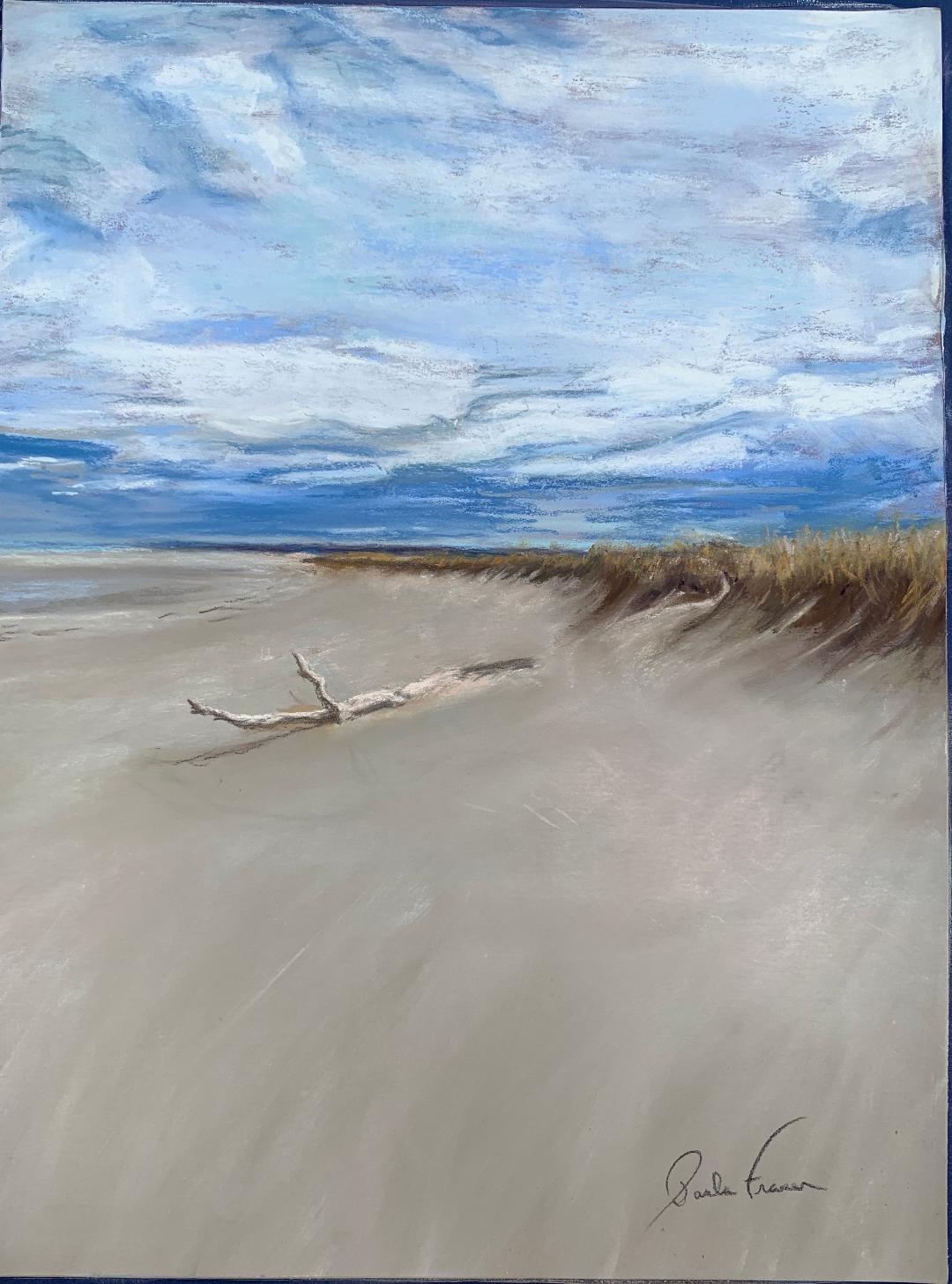 Rebirth
by Rita Berkowitz
12" x 24"
$695
Name: Rita S Berkowitz

Town: Scituate, MA

Website: TheSpiritArtist.com

How Long have you been an artist? I started my path as an artist when in 9th grade, my art teacher suggested that I apply to Art and Design H.S. in NYC. I was accepted. I did go out of art for a 14 year hiatus 1997- 2012 and then returned.

How long have you been using pastels? I started using pastel in 2012.

What do you love about pastels? Why I love pastels, the creamy texture, the ease of layering colors, and pastel artists are fabulous people.

What subject matter do you paint? For the last 2 years I've been painting Waterfalls in New England.

What style do you paint in? Interesting question, loose would be the best answer.

Do you teach any classes or workshops? I taught college level Painting, Drawing and Fashion Illustration. Currently, I have not been teaching.

Are you featured in any galleries, or shows currently? Currently I am a Gallery Artist at the South Shore Art Center in Cohasset, MA, I have some work up at the South Shore Conservatory of Music, and I'm included in Renaissance, Connecticut Pastel Society opening on October 8th 2020.

Any major awards in pastels? Honorable Mention in 2019 Connecticut Pastel Society Renaissance 2019, 1st Place in Pastel in Sea and Sky, Hull Life Saving Museum, 2nd prize in Pastel at the Cape Cod Art Center National Juried Show.

Fun Facts? I am not any of the wonderfully interesting avocations you mentioned, but I am known as a Spirit Artist. I have traveled the US, Canada and UK demonstrating my gifts of seeing Spirit Communicators and drawing their image as they connect to loved ones that are still on this side of life. I've worked privately, as well as large demonstrations, Fox TV Boston and the BBC. I am also the co-author of "The Complete Idiot's Guide to Communicating with Spirits" and the author of "Empowering Your Life with Angels."