News & Events
2020 CMPS National Juried Show
Will be held late spring in 2020! Once available, details will be posted on the exhibitions tab and emailed to CMPS members.

CMPS Membership Perks!
5% OFF - If you need high quality prints of your artwork, or quality images of your artwork captured check out Jetart Company! jetart.biz . Using state of the art equipment, they've been capturing and reproducing fine art, lithographs, photographs and other 2 dimensional documents for private individuals, organizations, artists, galleries and museums for the past 13 years. Just let them know you are a CMPS Member.
10% OFF - Post Road Art Center in Marlborough, MA has graciously extended a 10% discount to CMPS Members. This is applicable to art supplies only but they carry a good assortment of supplies including UART paper and the full line of Richeson Hand Rolled Soft pastels. Just tell them that you are a CMPS Member at the register. They also hold monthly shows that are great to participate in, or just view. You can get further details postroadartcenter.com .
WELCOME
Fellow Pastel Enthusiasts!
CMPS Social Media

You can find CMPS information on our website http://www.cmpastels.org and on our FaceBook page https://www.facebook.com/cmpastels . The CMPS website is a work in progress. Please bear with us while we put the finishing touches on it. Also, if you have web building skills and would like to help please contact Lisa at president@cmpastels.org . The Facebook page will be a great place to post your artwork (finished or WIP - especially useful if looking for feedback), rallying the troops for impromptu plein-air outings, making new friends and staying in touch. We do have an Instagram account more to follow there at a later date.
When we aren't showcasing a current CMPS show we feature 2 CMPS members here on the home page. Meet our featured artists;
CMPS Artists of the Month
Name: Lisa Regopoulos

Location: Fitchburg, MA
Contact Info: 978-400-1151

Website: www.lisaregopoulos.com

How Long have you been an artist?

I've been interested in art all my life.
How long have you been using pastels?
I've been using pastels for 20 years, 5 years full-time.
What do you love about pastels? I love that what you see is what you get with pastels, and also the tactile nature of them.

What subject matter do you paint? I love landscape painting best, but will paint just about anything that catches my interest.
What style do you paint in? I paint in an impressionist style
Do you teach any classes or workshops? This year I taught a 10 day plein air workshop in Umbria, Italy. I also conduct workshops all over the N.E. region, and am actively pursuing other venues in the USA.

Are you featured in any galleries, or shows currently? I am represented by: N.W, Barrett Gallery, Portsmouth, NH; Boulder Gallery, Fitchburg, MA; Fruitlands Museum Gift Shop; Crane's Estate Gift Shop, Ipswich, MA; Creative Connections, Asbhurnham, MA, and Wild Salamander Creative Arts Gift Shop.
Any major awards in pastels?
IAPS/MC, Best in Show, PSME National Juried Show, Best in Show, PSNH, Members Show

Fun Facts?
I love to go on road trips to see extreme weather and love to see storms on the coast, rushing waterfalls, etc. I also used to be a rock climber!
Name: Eileen Casey
Location:
Eileen Casey Art
9 Orchard Way
Sandwich, MA 02563

Contact Info: 508-564-0269, casey621@comcast.net
https://www.instagram.com/eileencaseyart
https://www.facebook.com/EileenCaseyArt/
How long have you been an artist?

I've been making art for as long as I can remember and I've been a full-time artist since September, 2017.
How long have you been using pastels? I've been working with pastels since 2007.
What do you love about pastels? My previous work was primarily graphite drawing and white lithography, so I love pastels' vibrant colors, as well as the diverse applications that can be used with pastels.


What subject matter do you paint? My favorite subject is nature, especially bird nests, trees and koi ponds.
What style do you paint in? I think my style is contemporary. I start somewhat realistically and then veer off into abstraction.
I love markmaking and creating the illusion of movement.
Do you teach any classes or workshops?
I teaching Pastels 101 at the Cape Cod Art Center in Barnstable and at the Creative Arts Center in Chatham. I also teach Printmaking at the CCAC.
Are you featured in any galleries, or shows currently? I was in a group show at Linden Ponds in Hingham last month and I have a solo show coming in Chatham in March.
Any major awards in pastels? I have received four Best of Show
Awards, a Second Place at CMPS, several Third Places and numerous other awards. I earned Master Circle at IAPS in 2013. I am also a PSA, PPSCC, CPS and CMPS Signature Member and I am a Master Artist at CCAC.
Fun Facts? I have had a booth at the Sandwich Antiques Center for more than 20 years. I taught elementary school art and directed a school age program (where I also drove a school bus) for almost 40 years. I also enjoy spending time with my family and friends.

Pieces of April
14" x 10"
Available
Poor Man's Fertilizer
6" x 8"
Sold
CMPS 2020 dues are due by January 31, 2020
2019 Wrap-up & 2020 Updates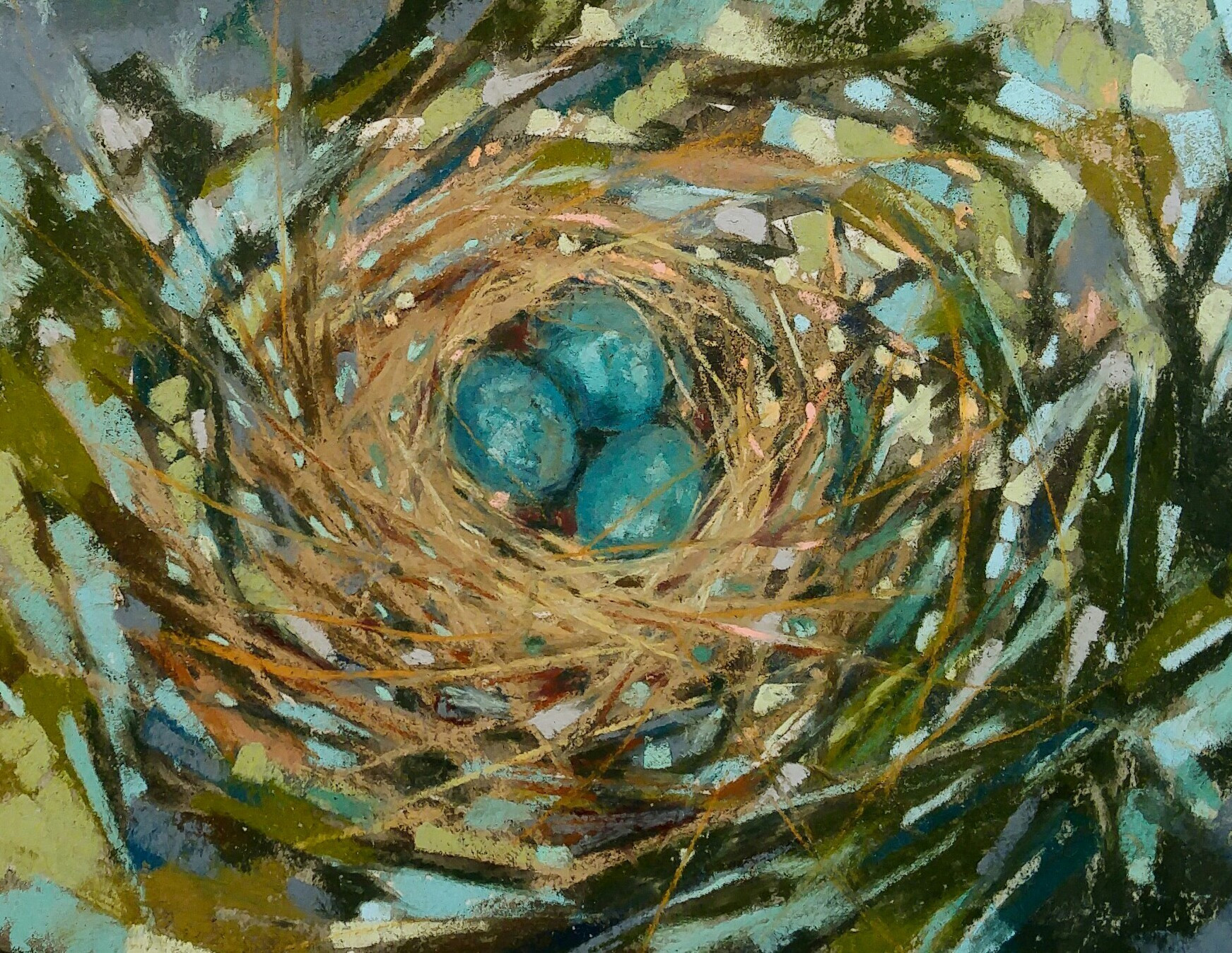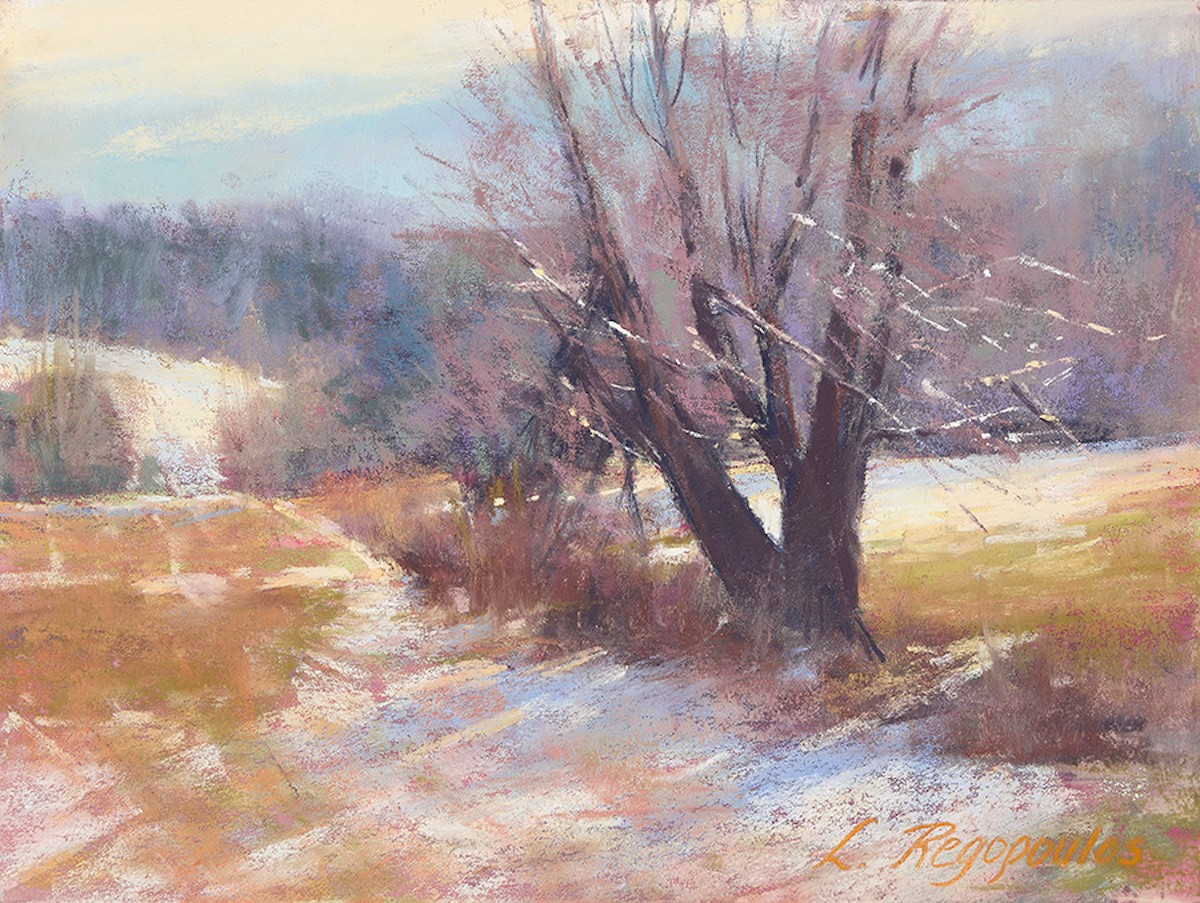 2019 Annual Members Meeting Pop-up Show was a hit!