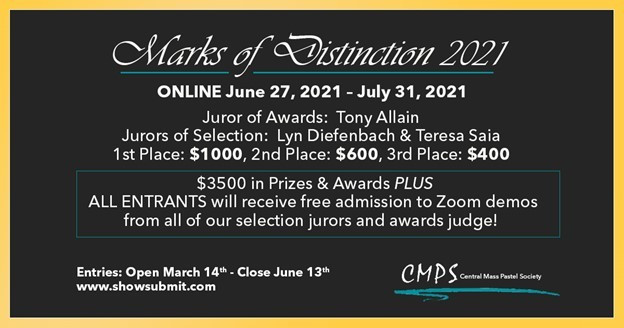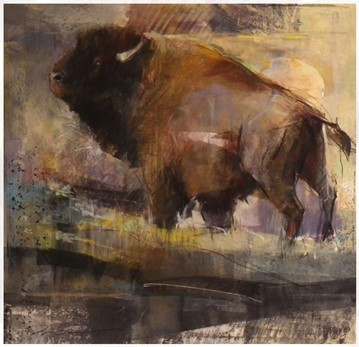 6/27 1pm – 3pm EST
FREE Demo - Tony Allain, PS, ARSMA, PSA, MC-IAPS, MPANZ
We are very fortunate to have Tony Allain as our 2021 Marks of Distinction awards judge. Tony is a Scottish based artist. He is an award winning painter, instructor and author and has been painting for over 40 years. a member of the Pastel Society London, an Associate member of the Royal Society of Marine Artists among others. A self-taught painter of colour, light and movement with a complete understanding of his surroundings. Born and raised in the Channel Islands he moved to paint and live in Cornwall to capture the unique clarity of light living on the peninsular of the West Country. Tony has exhibited extensively over the years, his work can be found in many leading galleries as well as private and corporate collections worldwide, including the Maritime Museum, Guernsey and Queen Mary 2, Cunard Liner. He has exhibited with The Pastel Society of America in New York, the Royal Society of Marine Artists, London, The International Pastel Exhibition, Suzhou, China and the Pastel Society, Mall Galleries, London. A move to New Zealand in 2006 proved to be a turning point in his career with the acceptance as a Master of the Pastel Artists of New Zealand.
His work is regularly featured in The Artist Magazine, the Pastel Journal and the Practique des Arts.
7/25 11am – 5pm
DRIVEN TO ABSTRACTION
WITH LAURA POLLACK, PSA, MC-IAPS, PSCW, SPS
$100 PER PERSON
AUGUST – DATE/TIME TBD
DAWN EMERSON DEMO AND Q&A
Innovative seems in adequate to describe what Dawn Emerson accomplishes with pastels and the wide variety of materials and surfaces she works with. For this event, Dawn will walk us all through a pre-recorded demonstration, followed by a Q&A. Participants will have ample chance to get all those burning questions, that fill our heads when we see her varied and fascinating work, answered.
NOVEMBER
11/10/21 – 12/13/2021 CMPS Signature Show at the Fitchburg Art Museum
Info on participation will be sent to all CMPS Signature members soon.

11/13/21 5pm – 8pm CMPS Signature Show Reception and Annual Members Meeting
The plan, if things are still stable regarding viruses, is to host the CMPS Annual Members Meeting and the opening reception for the CMPS Signature Members Show conjunctively at the Fitchburg Art Museum. There will be music, wine, cheese and crackers (safely prepared and individually wrapped) and because we will have the Fitchburg Art Museum to ourselves, plenty of beautiful art! This is shaping up to be an event not to be missed. Further details to come.